Woodcrafting is an art that requires serious attention to detail. Therefore it also requires high-quality tools for which professionals are always on the hunt.
By using highly advanced cutting scroll saws, beautiful designs with detailed cuts can be created. Due to this reason, having a great quality scroll saw that allows accuracy and versatility is very important.
But there is always one problem that people face! The diverse range of scroll saws available in the market makes it super difficult to find the ideal ones.
So, in this article, we will enlighten you with the 8 best professional scroll saws that you can get your hands on. These scroll saws offer advanced features making woodwork a piece of cake. So, whether you do professional woodwork or just enjoy wood crafting, this list will help you figure out the perfect scroll saw that matches your needs.
So, wait no more! Give this article a read and grab your ideal scroll saw to unlock the doors of next-level creativity.
1. WEN 3921 – The Scroll Saw With A Two-Direction Cutting Capability
The WEN 3921 is an exceptional tool that has proved to be beneficial for woodworkers in many ways like handling larger projects with accuracy.
This scroll saw offers the utmost accuracy of work owing to its work light feature. The light works efficiently in increasing visibility which makes the work easier. As a result of which, the chances of error are also reduced.
Moreover, the variable speed and dual-direction cutting capabilities make the process of woodwork easier. To allow the woodwork enthusiast to have better control over the cutting process, this tool offers adjustable speed settings.
All these features work together to help the woodworkers transform their materials easily into detailed designs.
Why We Love It – The Key Traits
We believe that the WEN 3921 stands apart from other scroll saws owing to its dual-direction cutting. This allows the crafter to make cuts on both left and right sides without having to rotate the material.
Another unique feature that we love is its spacious worktable. It offers a wide space to comfortably accommodate bigger wood projects. This feature eradicates the feeling of being constrained when working on projects that require a bigger area.
Who Should Buy It
WEN 3921 is perfect for
Professional woodworkers
Hobbyist crafters and DIY-loving woodworkers
Woodworkers who require enhanced visibility
What Did We Dislike
The only problem that we could come across is the dust collection system. The system depends on extra measures to ensure a clean environment. This can be a drawback in the case of longer projects.
Delta's 40-694 is an extraordinary tool that elevates the woodwork as it allows better cutting due to its accuracy and precision. It also offers speed adjustments to deal with fine details which enhances its performance further.
Designed to be very user-friendly, this scroll saw is very convenient to use even for beginners. Apart from this, it is also known to be very durable and reliable owing to its great quality building materials.
Woodworkers looking for a versatile tool should look no further, as Delta Power Tools 40-694 is ideal for being used for a wide range of woodworking projects.
Why We Love It – The Key Traits
The feature that we love the most about 40-694 is its 20-inch throat depth which offers ample space. This feature provides plenty of working areas to accommodate bigger projects without facing any difficulty. Therefore, you won't feel restricted while using this tool.
Who Should Buy It
This power tool is perfect for
Wood artisans and hobbyists
Educational centers and studios
Furniture makers
What Did We Dislike
We think the biggest drawback of 40-694 is that it is not so efficient in collecting dust. It has an in-built system which does not ensure optimal dust collection. This results in the accumulation of sawdust in the workspace, which then requires cleaning.
3. WEN LL2156 – The Scroll Saw With A Parallel Arm Design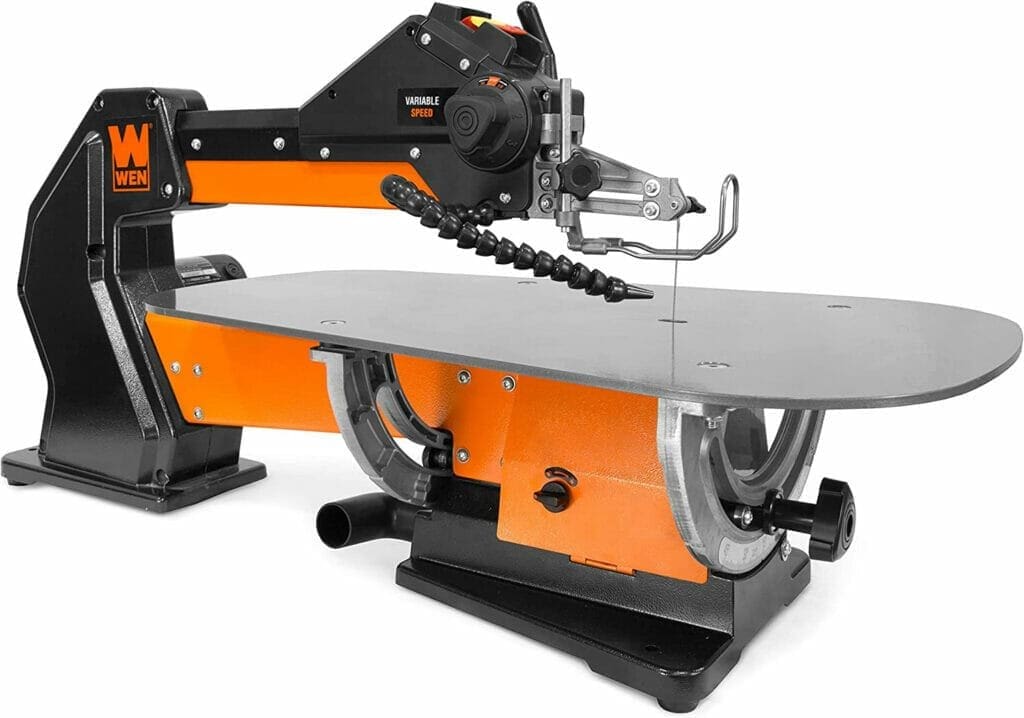 The WEN LL2156 is an ultimate tool that is bound to enhance performance owing to its high-performance motor which provides ideal power ensuring accurate cutting. It is paired with a speed-controlling ability, which can modify speed according to the material.
The extra-large steel table allows ample working space allowing angled cuts to incorporate creativity into the designs. This model of WEN also has a dust blower which allows a debris-free workspace.
Why We Love It – The Key Traits
We love the parallel-arm design of this tool which also makes it unique. This special design ensures proper alignment of the blades and reduced vibration, allowing a clearer cut.
Another amazing trait that we came across is the feature of tool-free blade changes. This allows easy replacement of blades to ensure a diverse cutting ability.
Who Should Buy It
This tool is ideal for
Furniture and architectural model makers
Craftsmen and Artists
Woodwork workshops and educational institution
What Did We Dislike
What didn't impress us is that this tool has been reported to have issues, for instance, the bladder holder. The parts are subject to wearing and require frequent adjustments to ensure better performance.
4. Dremel MS20-01 – The Scroll Saw With A Detachable Coping Saw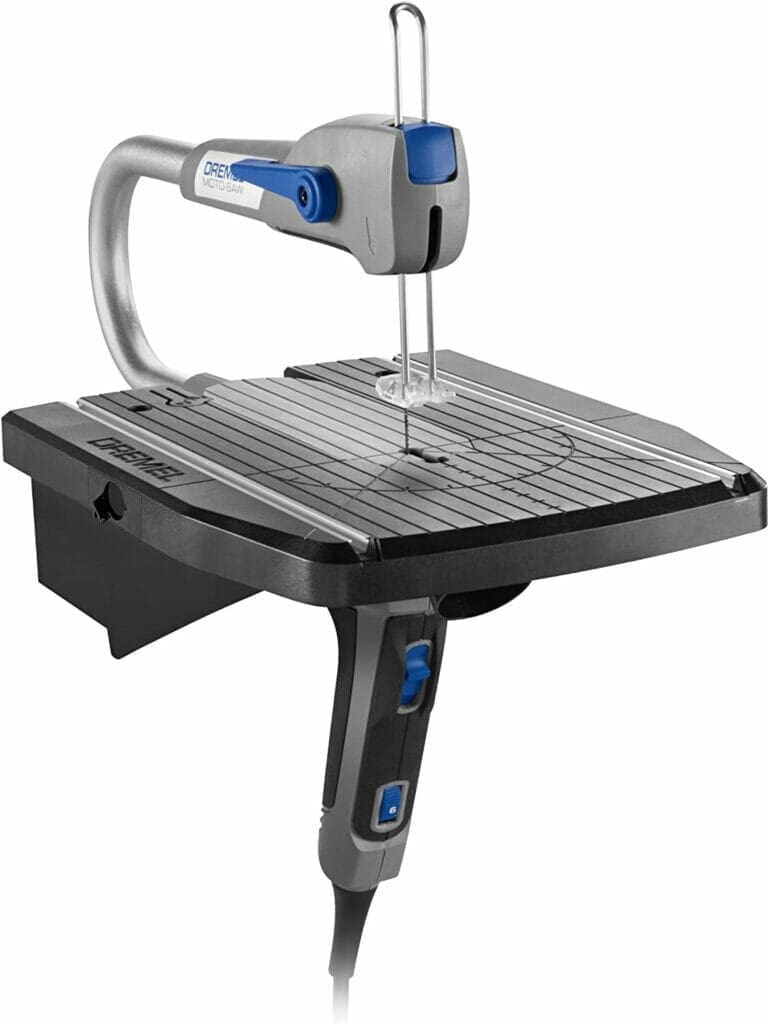 The Dremel MS20-01 is a compact and lightweight tool that allows easier cutting making it ideal for intricate designs.
Equipped with a speed control system, it offers high performance and versatility. The tool also ensures a clean working space owing to its dust port and vacuum adapter. It features a tool-free blade-changing system, allowing greater adaptability of the tool to various wood projects.
Why We Love It – The Key Traits
What we adore about this tool is its detachable coping saw. This feature allows the MS20-01 to be used as both a stationary saw and a handheld saw. This offers freedom of usage which is important when dealing with different cutting techniques.
Who Should Buy It
This tool is ideal for
Wood Crafters and Artists
Model and Jewellery Makers
Hobbyists and DIY Lovers
What Did We Dislike
What didn't appeal to us is its compact size. This limits its capacity to cut larger and thicker pieces. Apart from this, it also makes a lot of vibration and noise, which is another concern.
5. Hegner – The Scroll Saw With An Effortless Blade Changing System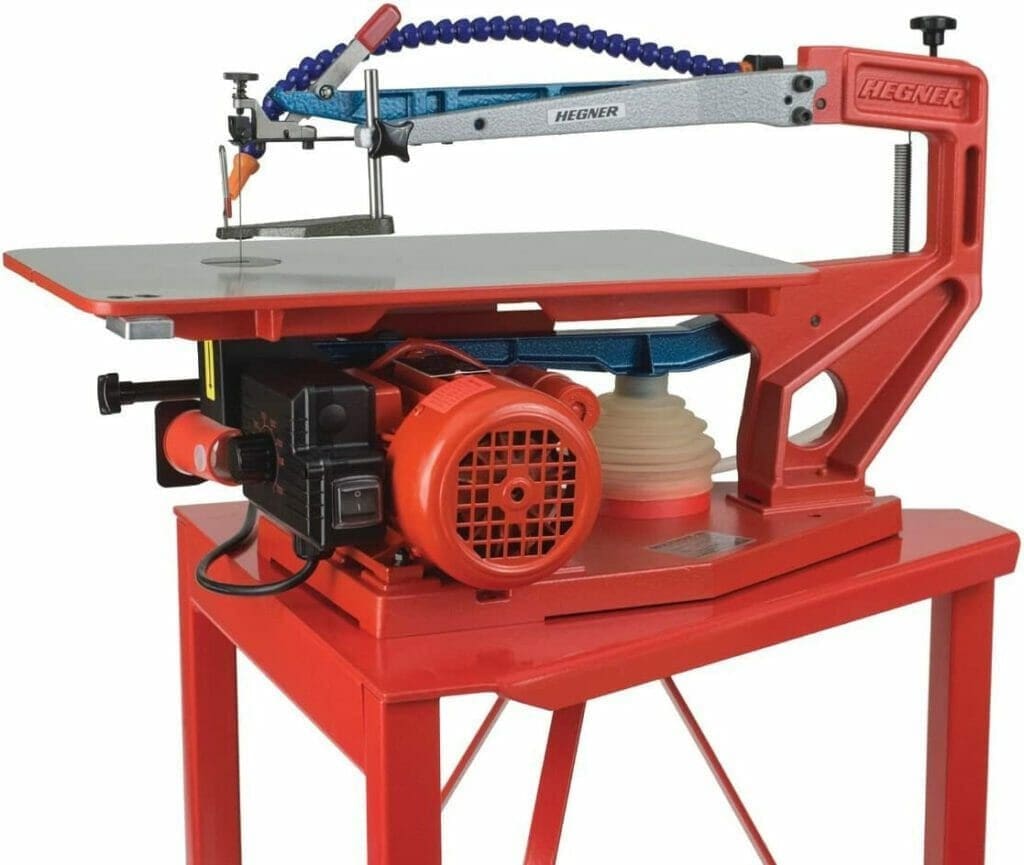 Woodworkers who require scroll saws to craft intricate designs will surely love using Hegner since it's known for its high-quality craftsmanship. This is an amazing tool when it comes to creating designs with intricate cuts along with a smooth finish.
This scroll saw has an 18″ throat depth, providing plenty of space to accommodate bigger projects. It also features variable speed control ability to adjust the speed. The powerful motor paired with the cast iron table ensures consistent cutting while providing stability and minimal vibration. This tool also has a tilting table allowing more efficient crafting techniques to be incorporated.
Why We Love It – The Key Traits
What we are fond of is the remarkable blade-changing system of Hegner, which allows swift and effortless blade changing. This makes working with different blade types easier in order to incorporate diverse cutting styles.
Who Should Buy It
This tool is ideal for
Furniture repair and restoration service providers
Professional woodworkers
Educational institutions and studios
What Did We Dislike
What we did not enjoy is this tool's limitations due to its restricted throat depth. This makes it inefficient to work on larger projects. Therefore, it is suitable for standard-sized projects only.
6. JET JWSS-22B – The Scroll Saw With A Foot Switch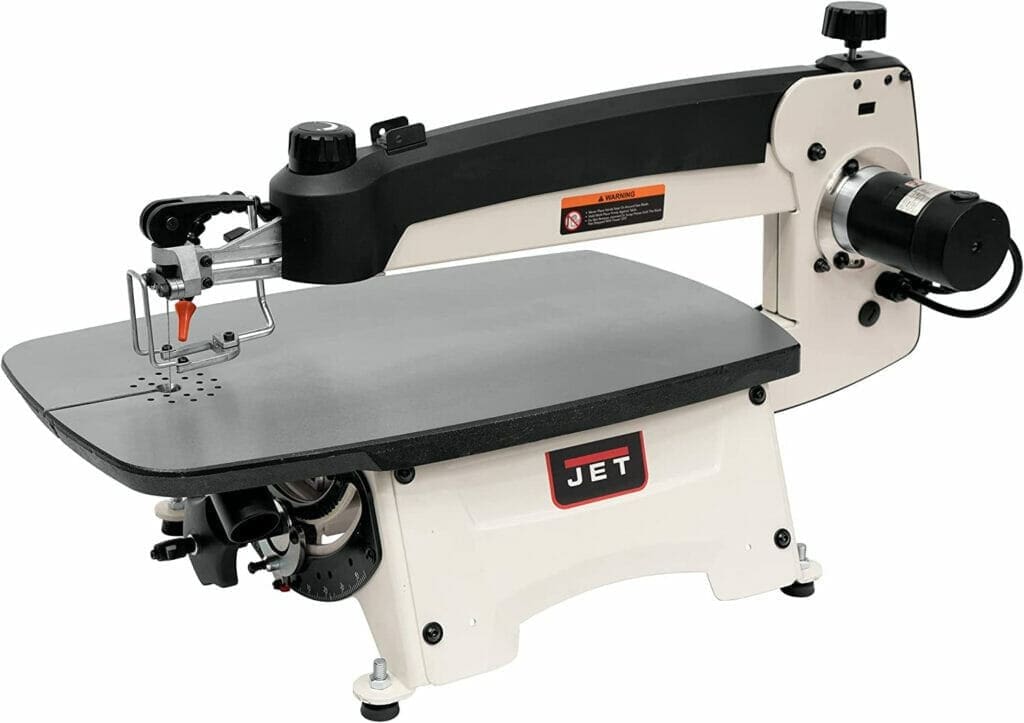 The Jet JWSS-22B is a premium-grade scroll saw that offers excellent precision without compromising any sort of convenience, making it the perfect choice for adding larger cuts.
It features a 22-inch throat depth, making the saw ideal for handling bigger wooden projects. Its cutting capacity allows easy crafting of intricate details even on material that is thick. Additionally, its powerful motor efficiently provides a consistent supply optimizing the performance of the tool and reducing work time. The blade changing system paired with the tensioning system also ensures high performance and durability.
Why We Love It – The Key Traits
What we love about this tool is its unique trait of a foot switch, which offers hands-free operation allowing it to stand out. This allows it to be more convenient for intricate design-making that requires consistent control. It also enables it to work efficiently in minimizing accidents encountered due to distractions while moving.
Who Should Buy It
This tool is ideal for
Advanced woodworkers and repair service providers
Skilled hobbyists
Restoration workers
What Did We Dislike
What didn't capture our interest is JWSS-22B's high cost. This makes it a burden on the budget, making it a less favorable option for beginners despite its advanced features.
7. DEWALT – The Scroll Saw With A Double Parallel Link Arm Design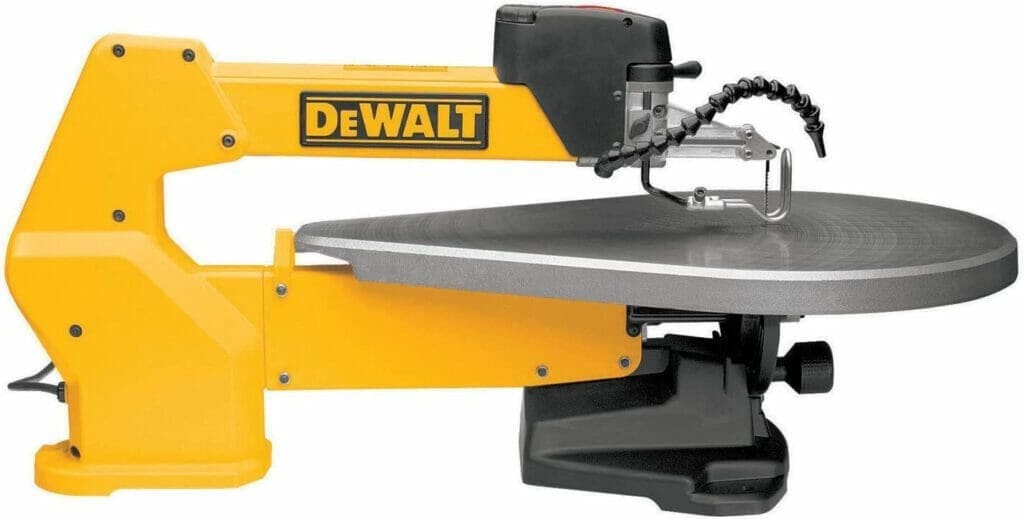 The yellow DEWALT Scroll Saw is ideal for professional woodworkers who require precise cutting since it has a 20-inch throat depth. This allows it to work efficiently in delivering the best performance by allowing plenty of space to maneuver easily. This tool features a top-notch 1.3 Amp motor and variable speed control systems that enable consistent cutting and adaptability.
It also features a large cast iron table that allows stable working space by reducing vibrations. In addition to this, there is also a blade clamping system that allows easy installation and retention of blades making woodwork easier and less time-consuming.
Why We Love It
What is adore about DEWALT is its double parallel-link arm design. This makes it an innovative tool that efficiently provides optimal control to the crafter. It also reduces noise vibrations and ensures a smooth cutting experience with utmost accuracy, even with the most intricate designs.
Who Should Buy It
This tool is ideal for
Beginner wood crafters
Hobbyists and DIY enthusiasts
Scrollwork and fretwork artists
What Did We Dislike
What we didn't like about this tool is that it has a limited throat depth. This makes it harder to use for larger projects. Therefore, it is also not ideal for bulkier materials requiring deeper throat depth.
8. XtremepowerUS – The Scroll Saw With A Highly Variable Speed Control System
This red XtremepowerUS offers incredible features that can make woodwork more efficient and comfortable owing to its tilting table with adjustable angles. This makes this tool ideal for crafting intricate details. Its solid design, paired with a variable speed control system, makes it user-friendly. Additionally, it also features a 16-inch throat depth allowing enough space to work on larger pieces.
This tool is highly reliable due to its durability and efficient motor supply, ensuring stable working conditions with minimal vibrations.
Why We Love It – The Key Traits
What we are really fond of is that XtremepowerUS offers a highly variable speed control system that allows ideal control over the strokes. It makes the tool very versatile as the speed can be adjusted according to the material being worked on. This provides for utmost accuracy when creating intricate details.
Who Should Buy It
This tool is ideal for
Beginner level woodworkers
DIY lovers and crafting artists
Small business owners and educational institutions
What Did We Dislike
What didn't resonate with us is that the long-term use of this tool can result in various problems. These include enhanced vibration, precision issues, and repair requirements, making it less durable.
Final Verdict
To sum it up, choosing the best professional scroll saw can be difficult, requiring the utmost consideration of features and factors like cost and durability.
Since there are diverse options in the market, a good analysis has been done to narrow down eight ideal scroll saws for you to choose from.
The scroll saws mentioned offer a generous throat depth, variable speed control system, efficient blade changing features, top-notch designs, adjustable tables, and even good reliability. You can select whichever option suits you the best to enjoy an exceptional performance.
So, what are you waiting for? Pick a scroll saw you like and enjoy a remarkable crafting experience!