Everyone enjoys comfort in life, and portable table saws have proven to be a popular choice. If you are a woodworker and want a reliable and efficient table or saw that could be portable in your small workshop and provide you accurate woodcuts?
You don't need to worry because we will introduce you to the best portable table saw available in the market. Which will help you to achieve precise cuts and safety. We will also cover alignment, sharpness, and proper usage techniques. So, highlighting their key features, benefits, and factors to consider while shopping.
However, with our expert recommendations, you can confidently choose the ideal portable table saw that perfectly matches your woodworking requirements.
We have made things easier for you and researched hard to compile a list of the 6 best portable saws. These are the best because of their economical price, efficient cutting capacity, and durable blades.
So, let's get started.
If you want to experience a safe and smooth start, go with the Bosch Worksite table saw. One of the standout features of this table saw is its constant response circuitry, which enables you to handle cutting loads with confidence, even when dealing with tough materials.
We found this feature helpful when cutting dense materials like hardwoods or thick lumber, as it helps maintain a smooth and efficient cutting process.
The Squarelock rip fence is also engineered to provide enhanced clamping and trueness, ensuring that your cuts are always accurate. We observed it super amazing when working on projects that require a high degree of accuracy, such as cabinetry or furniture-making.
Safety is a top priority with the Bosch Worksite table saw. It has a smart guard system, including a riving knife and anti-kickback pawls, which provide added protection during operation.
We like this feature because the riving knife prevents material from pinching the blade, and anti-kickback pawls stop material from being thrown back towards the operator, ensuring safety.
The guard assembly also allows for an unobstructed view of the cut, providing a clear view of the object. Moreover, the onboard storage feature is also practical, allowing you to access all easily included components and keep everything organized and within reach when needed.
What Do We Like Most
Unlike other table saws, it handles larger loads and cuts wood up to 30 inches. This durable product has a cast aluminum top with 40 teeth supporting every touch material.
Squarelock rip fence handles the enhanced clamping and trueness to let you work without worry. However, the mitter guard got a head that helps to cut the wood at various angles, from miter to cross cuts. This feature is particularly useful when working on projects that require angled cuts, such as picture frames or crown molding.
What we like most is Its larger working surface that allows you to put your belongings alongside and do the work with ease.
There will be no tripping because it has soft-start circuitry to manage the motor speed and provides a constant cutting response throughout your working session.
What We Don't Like
You should have some prior expertise in handling the fence square because it may speed up while cutting and cause trouble.
Its dust collector is loose somewhere, and you must fix it periodically.
Who Can Use This Product?
For someone who wants to work on a big scale and needs a portable saw that can handle larger workloads, this product is for them.
DEWALT Table saw makes it easier for users to experience fast and accurate adjustment to the fence. It's a versatile tool that can handle various woodworking tasks, making your projects more accessible and efficient. The high torque motor ensures smooth and efficient cutting, saving time and effort for woodworking projects.
We found the setup and breakdown process of the rolling stand to be quick and hassle-free. The stand's stability gave us confidence while working on our projects, as we didn't have to worry about it wobbling or shifting during use.
The rack & pinion telescoping fence system was a game-changer, allowing us to make precise fence adjustments quickly and smoothly. This helped us achieve accurate cuts and improve the overall quality of our woodworking projects.
What Do We Like Most
We like its quick and hassle-free setup, which allows us to remove the saw from the stand and use it for our convenience.
The rack & pinion telescoping fence system provides working stability and comprehensive cuts to the wood. You can work without worrying about displacement. We recommend using the saw with a stand because its level matters a lot while cutting.
The stand may have an adjustable cutting depth feature, allowing you to customize the depth of your cuts. This can be useful for woodworking tasks, such as making grooves, dadoes, or rabbets, and provides versatility in your project options.
What We Don't Like
Its rolling stand is bulky, and you may need help moving it in your small workshop.
Who Can Use This Product?
The Portable saw may be suitable for use in workshops, job sites, or other woodworking environments where you need stability, accuracy, and ease of use.
SKIL Worm drive table saw has been a game-changer in our workshop. Its legendary Worm Drive power train, superior torque, durable build, and precise cuts have made our woodworking projects more efficient and professional-looking.
We highly recommend this table saw to anyone who wants a reliable and powerful tool for their woodworking needs.
As expert woodworkers, we know a smooth and reliable saw matters a lot in our work. So, the real thing is its dual-field motor, which powers the saw and keeps it cool during continuous cuts and ripping through full sheets.
This means we can work for extended periods without worrying about overheating or motor failure. The outstanding performance has allowed us to tackle even the toughest cutting tasks easily.
What Do We Like Most
We like its dual-field motor, which efficiently provides fast and smooth woodcuts. The best part is its stay cool during the whole cutting process.
It's heavy but portable because of its wheels. You can move it to the job site or stay in your workshop to work with convenience.
You will love its side rack that increases wood stability while cutting and allows you to cut at a precise angle. So, you don't need a helper and do the whole cutting process yourself.
The blade arbor lock and raving knife are also user-friendly, with no removable parts that can be misplaced.
What We Don't Like
The miter gauge is made of plastic with many slopes, making it awful for cutting precisely.
The default blade works well for rough cuts, but consider upgrading to a higher-quality blade for precision cutting.
Who Can Use This Product?
The product is for professional carpenters who need a powerful saw for various cutting tasks, including rough and precision cuts.
If you want to cut various materials with a single blade, consider buying Evolution multi-material table saw. We recommend this product because of its sharp blade, which makes our work easier and provides efficient cutting for tough and thick materials.
The gearbox is also an exceptional part of this product. We can manage our workload and don't need any help because of its speed and sharpness.
However, we appreciate that it comes with a push stick, making the task safer and handling the load easily. So, during work, we don't need to move because of the right and left table sides where we can place our tools and wood stencils.
What Do We Like Most
We like its capacity to handle larger workloads. It cuts deeply and provides us the full support for the toughest materials.
If you have a smaller workspace, you will like this table saw not only of its durability but its foldable design. It's amazing to fold and store the table saw anywhere you are not working.
This product is a combo of durability and precision because of the 28T Japanese TCT saw blade. It will serve you live longer and won't collapse in workloads.
What We Dont Like
You will not like its noise, and there is no proper place for dust removal. So, these issues can make you uncomfortable while using this table saw.
Who Can Use This Product?
If you are an expert woodworker and want multiple cuts of various materials, this product is simply made for you. You cut through various materials with embedded nails, including steel, aluminum, wood, plastic, and wood.
SAWSTOP provides solutions o common problems in the woodworking process. We like its table depth because we can manage various cuts of wood quickly. There is immediate switching between deeper and thinner cuts, helping us create various models.
You will like its one-turn elevation system that raises and lower the blade quickly. It will save you time, and you can complete many projects in one day.
We observed the blade can tilt easily and quickly to the ideal angle in 1-degree increments. This feature helped us to get various cutting angles at good depth. The one thing that makes it safer and unique from other saws is its safety system that stops the spinning blade in contact with the skin in less than 5 milliseconds, which minimizes the risk of serious injury.
What Do We Like Most
We are using this saw for crosscutting, bevel cutting, and ripping. It's going out superb in holding the wood in one place and providing us the complete support.
You may like its table depth and dust collection guard, making your work easier and more comprehensive throughout the working session.
The onboard storage drawer provides a convenient place to store accessories, ensuring that they are always on hand when needed.
What We Dont Like
The saw may also be heavier than some other portable saws, making it less convenient to transport or move around job sites.
Who can Use this Product?
SAWSTOP saw can be a valuable tool for woodworkers who value safety, accuracy, and convenience.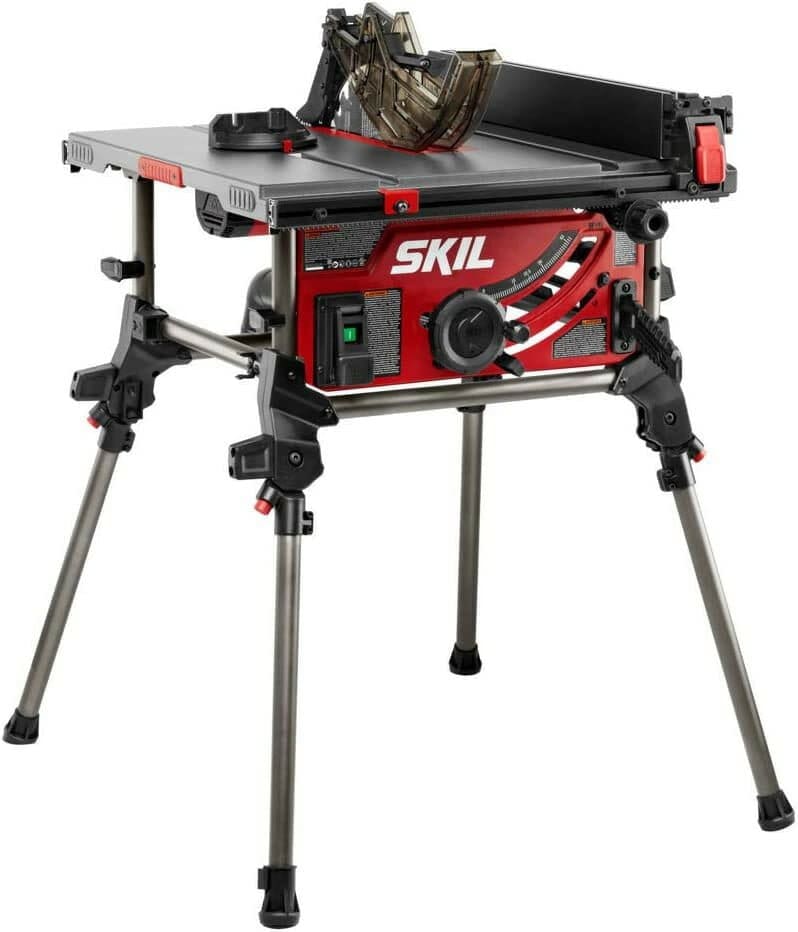 SKIL table saw is excellent for cutting hardwood materials. Most table saws can cut hardwood but need to provide precise and accurate cuts. This issue has been solved in this product because of its fence rails which make the adjustments fast, smooth, and accurate.
What we like is its parallel blade alignment. This allows for easy blade adjustment along the rip fence and miter slot, making it simple to get precise, accurate cuts.
Moreover, it comes with foldable legs, which are easy to move and store anywhere in the workshop. We recommend this product because of its easy storage and the dust port elbow cleanup. Many people don't like noise and dust, and this saw is just made to make them happy because these two issues are resolved.
What Do We Like most
It's an energy-saving tool, and a 15 AMP motor lets you cut precisely without clumping and fluctuations. It runs smoothly for an unlimited time and won't get hot during your working sessions.
It's easier to transport and store because of its integrated legs. You can fold the legs and place them anywhere in your workspace.
Easy adjustment of the blade is an exceptional feature. You can set its parallel blade easily and get the various cuts along the rip fence and miter slot.
Clean-up is just a breeze. Its dust port elbow helps collect all waste in one container, and you can easily remove the mess.
What We Dont Like
Although the product is a good working tool, its throttle plate is made of plastic which can be fractured in one or two months.
Who Can Use This Product?
Whether a professional carpenter or a DIY enthusiast, you can use this table saw for added safety and precision.
Buyer's Guide: Things to Consider Before Buying the Best Table Saw
Buying a table saw takes work because you will find many options in the market. But Buying one best portable table saws among the rest can confuse you. This list of portable table saws will help you choose the one that could be favorable for you in the long run.
Moreover, you should consider some factors that will help you make a buying decision. Let's dive in to explore them.
Blade Size and Cutting Capacity
These features can determine the efficiency of the table saw. Usually, table saws come in 8 to 10 inches in size. So, larger blades can cut deeper and provide various angular options. When discussing cutting capacity, it's the distance between the blade and the fence.
A more significant distance can provide the maximum width and length of the wood. We recommend you buy a regular blade size of 10 inches to get an accurate outcome.
Motor Power
Motor power depends on the cutting material. If you want to cut tough and rigid materials, use the motor with comprehensive power. In the case of smaller pieces and soft wood, a less powerful motor can benefit you. We observed that 15 Amp motor power is excellent for quickly cutting the job.
Fence and Miter Guage
Fence and Miter Guage should be adjustable to get the proper results. If you want to cut precisely, you must know how to adjust the miter gauge at various angles and how to adjust the fence to get the proper width and length of the wood. Moreover, a fence and miter gauge are the main parts of a portable table saw to get multiple woodcuts.
Dust Collection
When buying a portable table saw, you should consider a dust collector. It will help collect a significant amount of debris and make your space clean without any mess. So, you can work precisely without worrying about anything else.
Final Words
Portable saws are famous for making woodworking more accessible and more efficient. Woodworkers often prefer this tool for its ability to produce quick and precise results. When shopping for the best portable saw, it's essential to consider its blade size and cut efficiency, as a larger blade size can allow for deeper cuts.
In addition, a saw with an adjustable fence and an easy-to-use miter gauge can be helpful features. By selecting a saw with these features, you can enjoy a worry-free woodworking experience.